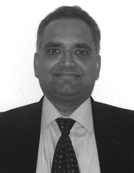 Jani Nemana
Founder CEO
Mentor, BDM Team
CEO Profile
Jani is the founder Chief Executive Officer of Mihir Mobile Solutions Private Limited.
Jani has a Bachelor's Degree in Electronics and Telecommunications Engineering from GITAM University and a Master's in Computer Science from Bradley University, USA.
A Network Management professional, Jani brings in more than two decades of experience in building successful teams that designed, developed, customized and marketed niche solutions for the Telecommunications Industry. In his illustrious career, Jani has architected and deployed Go-to-Market solutions that catered to all service layers of IP Multimedia Services as well as traditional F.C.A.P.S models. He has designed and managed Network Operation Centers, developed patentable frameworks for Holistic Service Assurance Solutions and experienced 2G-to-3G transformations in USA since 2002.
Other marquee highlights of Jani's career include CEO – 24*7 Operation Support Systems, CTO – Mihir Network Solutions, Principal Solution Manager – Infosys, Data Operations Manager – AT&T Wireless and Professional Services Manager – OSI, all in USA.
Jani founded MMS with an entrepreneurial challenge to create and deploy trademarked Extended Value Services in the day-to-day operations of various industries in order to meet the demands of global surge of Mobile Applications in our daily lives. He leads the strategy and vision for MMS' Products and Services.
Nageswara Rao
Founder CFO
CFO Profile
B. Nageswara Rao, is the co-founder and CFO of Mihir mobile Solutions, and has rich experience in building institutions. He has good knowledge acquired through a series of degrees in Engineering, Law and Finance. Since 1987, while pursuing a degree in Engineering, he has shown passion for financial markets, been attracted to industry and corporate world, and started to participate in the Indian Stock Market. His deep affiliation to stock markets made him to study MBA finance and MSc-Psychology. Since then he has been traversing with the industry trends, studying balance sheets, understanding the technology changes and the market valuations of various companies.
His deep rooted market driven knowledge triggered him to publish a blog, http://www.stocksdoctor.blogspot.com where he publishes relevant studies on the stock market growth and company valuations. He offers stock advice on the companies that can get affected or rewarded due to the changes in financial position, M&A and corporate actions. He also analyses the stock markets respect in valuing the companies that get priced in the stock value in those sectors of various industries that are performing well with their business & growth plan in the fast changing global economy, in-particular to Indian context.
His experience and expertise in corporate financing helps MMS to manage the cash flows, build assets with prudence in capital budgeting, manage the equity & debt ratio to help the enterprise flourish to maximize shareholders value by rewarding good return on investment. He manages the short-term and long-term financial requirements, deals with the financial institutions, PEs, VCs and Investment banks for their participation in the expansion drive of MMS, with new products and projects. The global aspirations of expansion can be achieved under his guidance, by raising capital through FCCBs, Warrants, ECBs, and also by facilitating the IPO and listing MMS in the Stock Exchanges.
Nageswara Rao headed the Telecom Infrastructure division of Prithvi Information Solutions that constructed cell towers in India. He also accepted the major responsibility and successfully launched the Operations & Maintenance business of Prithvi and provided 24*7 support for more than 5000 telecom cell sites with nearly 200-member team. His business acumen and relationships enhanced the operational efficiency of the operators has received good accolades from a variety of customers.
Earlier, he was a Regional coordinator for Ford foundation-supported nationwide Indian Institution of Paralegal Studies (IIPL). The Androgogy training tools are implemented while building the capacities through a series of trainings conducted for creating the Barefoot Lawyers Group to serve the bottom layer of the nation and enhancing the functional abilities of Panchayat Raj system. He also served some part of his career in Capacity Building and Leadership Quality Development of the downtrodden and under privileged societies in India at the grass root level with the support of international renowned agencies like Action Aid, Oxfam, Care, BFW Ford foundation etc. He also co-authored a published article in "echo", supported by World Bank and made representation on the International Conference on Renewable Energy.
Nageswara Raos role in MMS is finding strategic partners to finance the new products and services, fueling future growth and leveraging their extensive relationships for marketing in the global arena there by creating new avenues for Mobile Extended Value Services. His expertise to understand the economy, market demands, growth cycles of industry, preferences of financial institutions, Govt. policies and liberalizations in line with global outlook and emerging technologies across the globe help MMS to strategize the company position and focus the areas of future growth plans. He enables MMS to build such company that caters the emerging needs in the niche areas of market providing opportunity for wealth creation and recognition of MMS while serving the global needs with a growth oriented approach.
Nageswara Rao also participates in business viability study, financing the products and overseeing the revenue generation with focus on profitability. He supports the department of resource development for organizational development both laterally and vertically that builds on comprehensive cohesive talented team that can contribute to future growth. He facilitates the process in finding talent, to helping them to strategize to meet the company goals and believes in actively supporting these resources to achieve their set dream goals.